UNEP extends partnership with Chinese university
By:CHINADAILY  Published:03/01/2016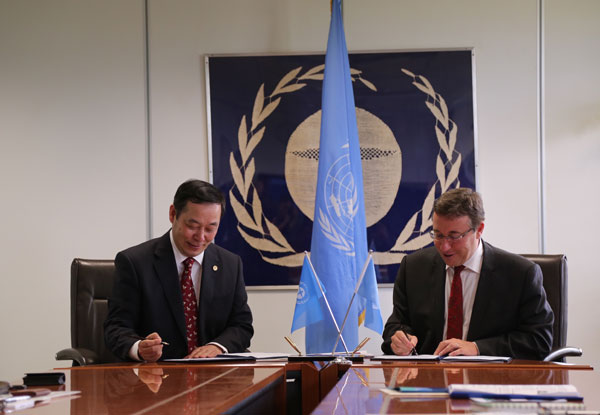 UNEP Executive Director Achim Steiner and Chair of the Tongji University Council Yang Xianjin sign the MoU in UNEP headquarters in Nairobi. [Photo by Hou Liqiang/chinadaily.com.cn]
United Nations Environment Program and China's Tongji University extended a 2012 Memorandum of Understanding on Monday in Nairobi, pledging to continue collaboration of the two sides.
The updated MoU, signed by UNEP Executive Director Achim Steiner and Chair of the Tongji University Council Yang Xianjin in UNEP headquarter, extends the partnership of the two sides to 2020.
The MoU vows to make more efforts to develop UNEP-Tongji Institute of Environment for Sustainable Development (IESD) into a globally recognized institute for environmental and sustainable development education and research, and South-South and triangular cooperation.
The Letter of Agreement to establish the UNEP-Tongji Institute of Environment for Sustainable Development was signed by the two sides on May 9, 2002.
According to UNEP, more than 300 students from various programs have graduated from the institute, with 70% from outside of China and many from developing countries.
The renewed partnership will also strengthen efforts to make the institute a globally recognized center of excellence and think tank for sustainable development.
Steiner said: "The IESD represents more than a decade of close collaboration between UNEP and Tongji University and is a center of sustainable development research. Tongji University has a proud tradition of leading academic research in technology, urbanization, energy and transport. Our unique and longstanding partnership is an opportunity to bring these areas of expertise to bear on UNEP's vision of an inclusive green economy and the 2030 Agenda of sustainable development for all."
"Research into sustainable development is a priority for Tongji University," said Yang, "Our partnership with UNEP has been long and fruitful and supports these efforts immeasurably. Expanding our partnership is an opportunity to advance sustainable development in China and build on Tongji University's expertise to become a global center for environmental science research."